Lent Madness 2018: The Saintly Smackdown is Back!
Lent Madness 2018
The Saintly Smackdown is Back!
By now you've heard that Ash Wednesday and Valentine's Day coincide this year. The real Lenten love, however, kicks off the next day on February 15. Why? Because for the ninth year running, people of faith are gearing up for Lent Madness, the beloved "saintly smackdown!"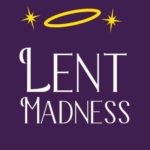 With its unique blend of competition, learning, and humor, Lent Madness allows participants to be inspired by the ways in which God has worked through the lives of saintly souls across generations and cultures. Throughout Lent, thirty-two saints will do battle to win the coveted Golden Halo. Based loosely on the NCAA basketball tournament of a similar name, this online devotion pits saints against one another in a bracket as voters choose their favorites throughout this penitential season.
Last year, our first ever Lent Madness competition at St. Peter's was a great success, with more than 30 competing brackets and $300 raised for outreach efforts.
To participate this year, donate $20 for outreach and submit your completed bracket to the Church Office by Shrove Tuesday, February 13. Bracket sheets and instructions are available at the Welcome Table in the Undercroft, or you may print it out here. On the weekdays of Lent, information is posted at www.lentmadness.org about two different saints. Each pairing remains open for 24 hours as participants read about and then vote to determine which saint moves on to the next round. Sixteen saints make it to the Round of the Saintly Sixteen; eight advance to the Round of the Elate Eight; four make it to the Faithful Four; two to the Championship; and the winner is awarded the coveted Golden Halo.
There will be a small prize, and bragging rights for our bracket winner! Join the Lenten fun, learn about the saints, and support our outreach ministries—all at the same time!
This year Lent Madness features an intriguing slate of saints ancient and modern, Biblical and ecclesiastical. 2018 heavyweights include John the Evangelist, Margaret of Scotland, Richard Hooker, Katharina von Bora, and the apostles Peter and Paul.
If you're looking for a Lenten discipline that is fun, educational, occasionally goofy, and always joyful, join the Lent Madness journey with St. Peter's and help us raise funds for outreach! Lent needn't be all doom and gloom. After all, what could be more joyful than a season specifically set aside to get closer to Jesus Christ?